By: RGS Energy via GlobeNewswire News Releases
August 14, 2018 at 17:40 PM EDT
RGS Energy Reports On Current Financial Results and Position, POWERHOUSE™ Written Reservations Exceed $96 Million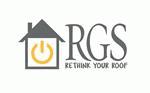 DENVER, Aug. 14, 2018 (GLOBE NEWSWIRE) -- RGS Energy (NASDAQ: RGSE), the exclusive worldwide licensee of POWERHOUSE™, an innovative and visually stunning solar shingle system using technology developed by The Dow Chemical Company, reported results for its second quarter ended June 30, 2018 and filed its quarterly report on Form 10-Q. RGS Energy encourages investors to read the filing for a complete report of its results for the second quarter.

Reinvented Company Focused on POWERHOUSE™
RGS believes it will be the first mover and an industry leader of built-in photovoltaic shingles, as the manufacturer of POWERHOUSE™ 3.0. Recent legislation such as the California Solar Mandate places the company in a position to significantly grow revenue. The manufacturing supply chain is in place and the product is progressing towards receiving UL certification. Due to UL closing their facility where POWERHOUSE™ is currently being tested, RGS currently expects to complete UL certification at another facility in October. The company has received over $96 million to-date in written reservations from roofing companies.
"We believe we already have written reservations for future annual revenue for us to operate at a profit," said Dennis Lacey, CEO of RGS Energy. "Now more than ever, we believe POWERHOUSE™ represents a major game-changer for RGS. Looking ahead, we see strong growth and expect profits in 2019."
The company needed financial capital to commercially launch POWERHOUSE™ 3.0, which it obtained from an April convertible notes and common stock warrants offering.
New Cash Resulting from the Convertible Note Financing
Cash 
Note Principal and
Additional
Amount
Series Q Common
Stock Warrants
Shares
At closing of the offering on April 9, 2018
$
5,000,000
 $
11,500,000
9,857,143
Conversions of notes to Class A common stock
(6,438,000
) 
Exercises of warrants
112,000
-
(200,000
)
Placement agent fees
(454,197
)
-
-
As of June 30, 2018
4,657,803
5,062,000
9,657,143
Activity during the period July 1 to August 10, 2018
Additional amounts arising from shareholder approval reset
-
25,577,431
-
Exercises of warrants
8,166,667
(7,191,667
)
Conversions of notes to Class A common stock
1,672,956
(16,039,109
)
Placement agent fees
(117,107
)
-
-
As of August 10, 2018
14,380,319
14,600,322
2,465,476
Expected future activity:
Series Q common stock warrants
-
-
(1,735,317
)
Placement agent common stock warrants
-
-
(730,159
)
Funding of remaining balance on Investor Notes
3,327,044
(3,327,044
)
-
Conversions of notes to Class A common stock
-
(13,057,278
)
-
Placement agent fees
(232,893
)
-
-
Expected net cash from the 2018 Convertible Note Offering
$
17,474,470
$
0
0
Accounting for the Convertible Notes and Series Q Warrants